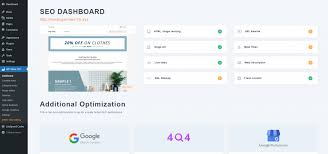 Search engine optimization (SEO) is a critical part of any WordPress website. It helps to ensure that your content is visible to search engines, and more importantly, that your content can be found by potential customers.
WordPress is an incredibly powerful platform for building websites, but it does have its limitations when it comes to SEO. Fortunately, there are a number of WordPress plugins and tools that can help you optimize your site for search engine visibility.
The first step in optimizing your WordPress site for SEO is to ensure that the basic settings are correct. This includes ensuring that permalinks are set up correctly, as well as making sure that you have an XML sitemap installed and configured properly. You should also make sure that you have meta tags enabled for all pages on your site.
Once the basics are taken care of, there are a number of additional steps you can take to improve your SEO performance. One of the most important steps is to create high-quality content that is optimized for search engines. This means creating content with keywords in mind and ensuring that the content is well-written and relevant to the topic at hand. Additionally, you should focus on creating internal links between pages on your site in order to create a strong internal link structure.
Another useful tool for optimizing WordPress sites for SEO is the use of plugins such as Yoast SEO or All In One SEO Pack. These plugins can help you optimize titles, descriptions, and other important aspects of each page on your site in order to improve its visibility in search engine results pages (SERPs). Additionally, these plugins can help you generate an XML sitemap which will allow search engines to better crawl and index your website's content.
Finally, it's important to monitor how well your website performs in terms of SEO over time so that you can make adjustments as needed. There are a number of tools available such as Google Search Console which will allow you to track how often certain keywords appear in SERPs as well as other metrics related to organic traffic from search engines.
By following these tips and using the right tools, you can ensure that your WordPress website has a strong presence in SERPs which will lead to more organic traffic and ultimately more conversions from visitors who find your website through search engines such as Google or Bing.
These are the 4 most commonly asked questions about SEO WP.
How do I add SEO to WordPress?

Install a WordPress SEO Plugin: The easiest way to add SEO to WordPress is to install an SEO plugin. Popular plugins include Yoast SEO, All in One SEO Pack, and SEOPress.
Optimize Your Titles and Meta Descriptions: Title tags and meta descriptions are important for SEO as they help search engines understand the content of your page. Use a plugin like Yoast SEO or SEOPress to customize your title tags and meta descriptions.
Set Up Permalinks: Permalinks are the URLs that are used to access your posts and pages. To optimize your permalinks for SEO, go to Settings > Permalinks in your WordPress dashboard and choose an SEO-friendly structure such as "Post name" or "Month and name".
Add Internal Links: Internal links help search engines understand the structure of your website and help visitors navigate around it more easily. When writing content, make sure to link relevant posts together using keyword-rich anchor text.
Optimize Images: Images play an important role in SEO as they can help search engines understand the content of a page better. Make sure to add descriptive alt text for each image on your website and use descriptive filenames for images before uploading them to WordPress.
Which is better SEO or WordPress?

It depends on your goals and needs. SEO (Search Engine Optimization) is a set of techniques used to improve a website's ranking in search engine results. WordPress is a content management system (CMS) that allows you to create and manage websites. Both SEO and WordPress can be used together to create an effective online presence, but depending on the level of expertise and resources available, one may be more suitable than the other.
Can we do SEO in WordPress?

Yes, it is possible to do SEO in WordPress. There are many plugins available that can help optimize your website for search engines, such as Yoast SEO. Additionally, you can use the built-in features of WordPress to improve your website's visibility in search engine results.
What is WP SEO?

WP SEO is a WordPress plugin that helps you optimize your website for search engines. It helps you create optimized titles and meta descriptions, generate XML sitemaps, manage redirects, and more. WP SEO also provides tools to help you track your rankings in the search engines and monitor your backlinks.
---