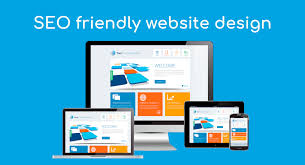 Search engine optimization (SEO) is a critical component of web design. SEO is the process of optimizing your website so that it appears higher in search engine rankings. It is important to optimize your website for SEO because it increases your visibility on the web and helps drive organic traffic to your site.
The first step in SEO is researching relevant keywords and phrases. You need to know what words and phrases people are using when searching for information related to your business or topic. This will help you create content that includes those keywords, which will make it easier for search engines to find and rank your site.
Once you have identified the relevant keywords, you need to incorporate them into your web design. This includes adding them into page titles, meta descriptions, headings, URLs, and content. The more relevant keywords you include in these areas, the better chance you have of appearing higher in search results. Additionally, make sure that all of your pages are linked together with internal links so that search engines can easily crawl through them.
Another important aspect of SEO is creating quality content that is engaging and informative for users. Content should be well-written with correct grammar and spelling, as well as provide value to readers by providing useful information or resources related to the topic at hand. Additionally, make sure all images are optimized with alt tags so they can be found by search engines as well.
Finally, link building plays a major role in SEO success. Link building refers to getting other websites to link back to yours, which increases its authority in the eyes of search engines and improves its ranking on SERPs (search engine result pages). You can do this by guest blogging on other sites or syndicating content from other websites onto yours with a link back to the source page.
By taking these steps into consideration during the web design process, you can ensure that your website is properly optimized for SEO success. This will help increase organic traffic and boost visibility online – ultimately leading to more conversions and sales for your business!
What are the 5 most commonly asked questions regarding SEO in web design?
How can I optimize my website for SEO?

Perform keyword research.
Make sure your website is optimized for mobile devices.
Optimize page titles and meta descriptions.
Optimize your website's content for SEO.
Create a sitemap and submit it to search engines.
Set up Google Search Console & Bing Webmaster Tools accounts for your website.
Build quality backlinks to your website from other high-quality websites.
Use social media to promote your content and build links to your website.
Monitor and track your SEO progress with tools like Google Analytics, Ahrefs, or Moz Pro tools.
What are the best practices for SEO in web design?

Use Responsive Design: Responsive design ensures that your website is optimized for all devices, from desktop to mobile. This helps ensure that your content can be easily accessed and read by users regardless of the device they're using.
Use Keywords Strategically: Utilizing keywords strategically in your content, titles, and meta descriptions can help you rank higher in search engine results pages (SERPs).
Optimize Your Site's Load Time: Page load time is an important factor in SEO since it affects user experience and bounce rate. Make sure to optimize your website's load time by using caching plugins, compressing images, and minimizing redirects.
Create Unique Content: Search engines reward websites with unique content that is relevant to the topic at hand. Make sure to create original content that provides value to users instead of copying from other sources.
Optimize Your URLs: Search engine algorithms use URLs as a way to determine the relevance of a page for certain keywords. Keep your URLs short, descriptive, and keyword-rich for better optimization results.
How do I make sure my website is visible to search engines?

Create a Sitemap: A sitemap is a file that contains a list of all the web pages on your website. This makes it easier for search engines to crawl and index your website.
Submit Your Website to Search Engines: Submitting your website to search engines like Google and Bing can help them find and index your site more quickly.
Use Relevant Keywords: Make sure you use relevant keywords throughout your content to help search engines understand what your site is about and what users are looking for when they visit it.
Optimize Your Website for Mobile: Mobile optimization is essential for ensuring that search engines can properly crawl and index your website on all devices.
Create Quality Content: Quality content is key when it comes to making sure that search engines can find, understand, and rank your website in their results pages.
What techniques should I use to increase my website's rankings in search engine results pages (SERPs)?

Optimize Your Page Titles and Meta Descriptions: Make sure your page titles and meta descriptions are keyword-rich, descriptive, and accurate.
Use Relevant Keywords: Research and use relevant keywords throughout your content to help search engines understand what your website is about.
Optimize Your Content: Create high-quality content that is valuable to users and that includes the keywords you are targeting.
Build Quality Links: Focus on building quality links from authoritative websites that are related to your niche or industry.
Utilize Social Media Platforms: Leverage social media platforms such as Twitter, Facebook, Instagram, and Pinterest to increase brand awareness and drive traffic to your website.
Monitor Competitors' Strategies: Monitor the strategies of your competitors in order to stay ahead of them in the SERPs.
How can I monitor and track the performance of my website's SEO efforts?

Monitor website traffic: Monitor your website's traffic and analytics to track the performance of your SEO efforts. Use tools such as Google Analytics or other web analytics platforms to measure the number of visitors, pageviews, bounce rate, time on site, and other metrics.
Track keyword rankings: Use tools such as Google Search Console or SEMrush to track your website's keyword rankings over time. This will help you identify which keywords are driving the most organic traffic and where you need to focus your SEO efforts.
Monitor backlinks: Track the number of backlinks pointing to your website using tools such as Ahrefs or Majestic SEO. This will help you identify which websites are linking to yours and how effective your link building efforts are.
Analyze competitor SEO: Analyze the SEO strategies of your competitors by using tools such as SpyFu or Moz Pro to see what keywords they are targeting and how their websites rank in comparison to yours. This will help you stay ahead of the competition and make sure that you are optimizing for the right keywords.
---