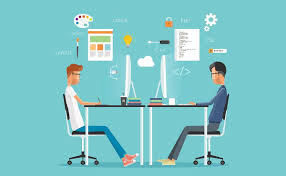 When it comes to web design, there is no one-size-fits-all solution. Every website has different needs, and the best web designer for one business may not necessarily be the best for another. With so many options available, it can be difficult to decide who to hire for your project.
To help narrow down your search, there are a few key qualities to look for when selecting a web designer. First, you want someone with experience in the type of website you need. If you're looking for an ecommerce site, make sure the designer has experience with online stores. Similarly, if you need a portfolio website or blog, make sure they have experience with those types of projects as well.
Second, look for someone who can work within your budget. Web design can be expensive, so it's important to find a designer who can create the site you need without breaking the bank. Ask potential designers about their rates upfront and get an estimate of how much your project will cost before signing any contracts.
Third, look at the designer's portfolio and read reviews from past clients. This will give you an idea of their style and quality of work so you can decide if they're right for your project. You should also check out their social media accounts to see how active they are in the web design community and what topics they discuss on a regular basis.
Finally, make sure that the designer is easy to communicate with and understands your vision for the website. You should feel comfortable discussing ideas and asking questions without feeling intimidated or overwhelmed by technical jargon or complex concepts. A good web designer will be able to explain things in plain English so that anyone can understand what's going on during the design process.
By taking these factors into consideration when choosing a web designer, you'll be able to find someone who meets all of your needs and creates a website that perfectly reflects your brand or business goals.
What are the four most commonly asked questions about the best web designer?
Who is the world best web designer?

There is no single best web designer in the world, as the best web designer for a particular job depends on a variety of factors such as skill level, experience, and industry knowledge. It is important to choose a web designer based on their ability to meet your specific needs and requirements.
How much should a web designer cost?

The cost of a web designer can vary depending on the complexity of the project, the experience of the designer, and their location. Generally, web designers charge an hourly rate ranging from $50 to $200 per hour.
Which company is best for web designing?

The best company for web design depends on your specific needs. Some of the top companies include Wix, Squarespace, Weebly, GoDaddy, and WordPress.com.
Is a web designer worth it?

Yes, a web designer can be worth it. They can help create a website that is attractive, user-friendly, and optimized for search engines. A web designer can also help you save time by taking care of the technical aspects of the website design process.
---