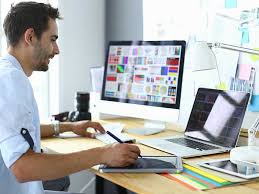 Freelance Graphic Design Online: Unlocking Opportunities for Creatives
In today's digital age, the world of graphic design has expanded beyond the confines of traditional employment. With the rise of the internet and remote work, freelance graphic design has become a viable and rewarding career path for creative individuals. In this article, we will explore the benefits and opportunities that freelance graphic design offers in the online realm.
One of the most significant advantages of freelance graphic design is the freedom it provides. As a freelancer, you have the autonomy to choose your projects, clients, and working hours. This flexibility allows you to tailor your workload to suit your lifestyle and personal preferences. Whether you prefer working during regular office hours or burning the midnight oil, freelancing empowers you to create a schedule that works best for you.
Moreover, freelancing opens up a world of opportunities beyond geographical boundaries. Thanks to online platforms and marketplaces dedicated to connecting freelancers with clients worldwide, you can work with individuals and businesses from different countries and cultures. This not only broadens your client base but also exposes you to diverse perspectives and design aesthetics.
The internet has also made it easier than ever for freelance graphic designers to showcase their portfolios online. With a well-crafted website or an account on popular creative platforms such as Behance or Dribbble, you can display your past work, skills, and expertise for potential clients to see. This online presence acts as a virtual storefront that attracts clients who are actively seeking talented designers like yourself.
Furthermore, technology has revolutionized collaboration in graphic design projects. Online communication tools like video conferencing, project management software, and cloud storage enable seamless interactions between freelancers and clients regardless of their physical locations. These digital tools facilitate smooth workflow management and efficient communication throughout the project lifecycle.
When it comes to financial aspects, freelance graphic design can be financially rewarding if managed effectively. As an independent contractor, you have control over setting your rates and negotiating contracts. With experience and a strong portfolio, you can gradually increase your rates to reflect your expertise and the value you bring to clients. Additionally, freelancing allows you to save on commuting costs, office rent, and other expenses associated with traditional employment.
However, like any profession, freelance graphic design has its challenges. It requires self-discipline, time management skills, and the ability to market yourself effectively. Finding clients and building a solid reputation may take time and effort initially. It's crucial to invest in self-promotion by leveraging social media, networking events, and online communities dedicated to design professionals.
In conclusion, freelance graphic design online offers endless possibilities for creative individuals seeking independence and flexibility in their careers. The internet has transformed the way designers connect with clients, collaborate on projects, and showcase their skills. With dedication, passion, and a strong work ethic, freelance graphic designers can thrive in the digital landscape while enjoying the freedom of being their own boss. So if you're ready to unleash your creativity and explore new horizons in graphic design, embrace the world of freelance opportunities that await you online.
9 Essential Tips for Succeeding as a Freelance Graphic Designer Online
Have an easily accessible portfolio of your work.

Having an Easily Accessible Portfolio: A Must-Have Tip for Freelance Graphic Designers
As a freelance graphic designer, one of the most crucial aspects of your online presence is having an easily accessible portfolio of your work. Your portfolio acts as a visual representation of your skills, creativity, and expertise, making it an essential tool for attracting potential clients and showcasing your talent. In this article, we will explore why having an accessible portfolio is a must-have tip for freelance graphic designers.
First and foremost, an easily accessible portfolio allows you to make a strong first impression on potential clients. When someone comes across your work or hears about your services, they will likely want to see examples of what you can do. Having a well-organized and visually appealing portfolio readily available enables them to quickly assess the quality and style of your designs. It demonstrates professionalism and instills confidence in your abilities.
Moreover, an accessible portfolio serves as a powerful marketing tool. When promoting yourself as a freelance graphic designer, whether through social media, networking events, or email outreach, you can easily direct people to your online portfolio. This centralized hub showcases the range of projects you have worked on, highlighting your versatility and ability to tackle various design challenges. It allows potential clients to browse through different categories or industries that align with their needs.
Additionally, an online portfolio provides a platform for you to tell compelling stories about each project. By including case studies or detailed descriptions alongside each design piece, you can explain the problem-solving process behind the visuals. This storytelling aspect not only engages viewers but also helps them understand how you approach design challenges and deliver effective solutions.
Furthermore, having an accessible portfolio allows for easy sharing across different channels. Whether it's through email attachments or sharing links on social media platforms like LinkedIn or Instagram, you can effortlessly showcase your work to a wide audience. This increases the likelihood of attracting new clients who may stumble upon your designs through shared posts, recommendations, or online searches.
When creating your portfolio, it's essential to consider the user experience. Make sure your portfolio is visually appealing, easy to navigate, and mobile-friendly. Potential clients may be accessing your portfolio from various devices, so optimizing it for a seamless viewing experience is crucial. Use clear and concise labels or tags to categorize your work, making it easy for visitors to find specific projects or styles they are interested in.
In conclusion, having an easily accessible portfolio is a must-have tip for freelance graphic designers. It serves as a powerful marketing tool that allows you to make a strong first impression on potential clients and showcase your skills effectively. By investing time and effort into creating an organized and visually appealing online portfolio, you can increase your chances of attracting new clients and establishing yourself as a reputable graphic designer in the competitive freelance market. So remember, make your work shine by ensuring that your portfolio is just a click away!
Always communicate clearly with clients and set expectations upfront.

Clear Communication: A Key to Success in Freelance Graphic Design
In the world of freelance graphic design, effective communication with clients is paramount. It lays the foundation for a successful working relationship and ensures that both parties are on the same page from the start. Setting expectations upfront and maintaining clear lines of communication throughout the project can make all the difference in delivering exceptional results.
When embarking on a freelance graphic design project, it's crucial to establish open and transparent communication channels with your clients. Clearly define project objectives, scope, timelines, and deliverables right from the beginning. This helps manage client expectations and prevents misunderstandings down the line.
Regularly check in with your clients to provide updates on progress, seek feedback, and address any questions or concerns they may have. Timely responses demonstrate professionalism and build trust. Keep in mind that clients may not have an extensive background in design, so it's essential to explain concepts or processes in a way that is easy for them to understand.
Additionally, be proactive in seeking clarification if something is unclear or if there are conflicting instructions. It's better to ask for clarification upfront rather than making assumptions that could lead to costly revisions later on.
Setting realistic deadlines is another aspect of clear communication. Be honest about your availability and workload so that clients have a clear understanding of when they can expect deliverables. If unforeseen circumstances arise that affect project timelines, communicate these changes promptly and propose alternative solutions.
Moreover, don't shy away from discussing budgets and payment terms early in the process. Clearly outline your rates, payment schedule, and any additional fees or expenses involved. This transparency fosters trust between you and your client while ensuring that both parties are aware of financial expectations.
Remember, effective communication goes beyond just verbal exchanges; it also includes written documentation. Use contracts or written agreements that outline project details such as scope of work, revisions policy, ownership rights, confidentiality clauses, and payment terms. This helps protect both parties and ensures that everyone is on the same page.
By prioritizing clear communication and setting expectations upfront, you can avoid misunderstandings, minimize revisions, and build strong client relationships. Clients appreciate designers who are proactive, responsive, and transparent throughout the project. Not only does this lead to client satisfaction, but it also enhances your professional reputation and increases the likelihood of repeat business or referrals.
In conclusion, clear communication is a fundamental aspect of successful freelance graphic design. From initial project discussions to final deliverables, maintaining open lines of communication with clients sets the stage for a productive and satisfying collaboration. By effectively conveying ideas, managing expectations, and being responsive to client needs, you can establish yourself as a reliable and sought-after freelance graphic designer in the online realm.
Stay up-to-date on the latest software and design trends.

Staying Up-to-Date: The Key to Thriving in Freelance Graphic Design Online
In the fast-paced world of freelance graphic design online, keeping up with the latest software and design trends is essential for success. As technology and design practices evolve, it's crucial for freelance designers to stay ahead of the curve. In this article, we'll explore why staying up-to-date is vital and how it can benefit your freelance graphic design career.
Software advancements play a significant role in shaping the graphic design industry. New tools and software updates are constantly released, offering improved features and capabilities that can enhance your workflow and productivity. By staying up-to-date with these advancements, you can leverage the latest software to create stunning designs efficiently.
Clients often seek out designers who are proficient in the latest software as it demonstrates your ability to deliver high-quality work using cutting-edge tools. Being well-versed in popular graphic design software such as Adobe Creative Cloud (Photoshop, Illustrator, InDesign) or Sketch shows clients that you are equipped with the necessary skills to bring their visions to life.
In addition to software updates, keeping an eye on design trends is equally important. Design trends change over time as aesthetics evolve and consumer preferences shift. By staying current with design trends, you can offer clients modern and visually appealing solutions that align with contemporary tastes.
Being aware of popular design trends also helps you differentiate yourself from competitors. Clients are often looking for fresh ideas that stand out from the crowd. By incorporating current design trends into your work while adding your unique touch, you can deliver visually impactful designs that captivate clients and set yourself apart in a competitive market.
Moreover, staying up-to-date on software and design trends allows you to expand your skill set and remain adaptable. As new techniques emerge or industry standards evolve, being aware of these changes enables you to continually refine your skills and stay relevant in a rapidly changing field.
Fortunately, there are numerous resources available to help you stay informed. Online design communities, blogs, industry publications, and social media platforms are excellent sources for learning about the latest software updates and design trends. Engaging with these resources regularly will keep you in the loop and provide inspiration for your own work.
In conclusion, staying up-to-date on the latest software and design trends is vital for freelance graphic designers who want to thrive in the online world. By embracing new tools and techniques, you can enhance your skills, attract clients seeking modern designs, and maintain a competitive edge. So invest time in continuous learning, explore new software releases, and immerse yourself in design communities to ensure that your freelance graphic design career flourishes in the ever-evolving digital landscape.
Ask for feedback from colleagues and industry professionals to improve your skillset.

As a freelance graphic designer, continuously improving your skillset is essential to stay competitive in the ever-evolving design industry. One effective way to enhance your abilities is by seeking feedback from colleagues and industry professionals. In this article, we will explore the importance of asking for feedback and how it can help you grow as a graphic designer.
Feedback plays a crucial role in the learning process. It provides valuable insights and perspectives that you may not have considered on your own. By reaching out to colleagues and professionals in the field, you open yourself up to constructive criticism that can help you identify areas for improvement and refine your design techniques.
When seeking feedback, it's important to approach it with an open mind and a willingness to learn. Remember, constructive criticism is not meant to discourage or undermine your skills but rather to help you grow and develop as a designer. Embrace feedback as an opportunity for growth rather than taking it personally.
Colleagues who are also graphic designers can offer valuable insights based on their own experiences and expertise. They may notice things that you might have overlooked or provide alternative approaches that can elevate your work. Collaborating with peers also fosters a sense of community within the design industry, allowing you to build relationships and learn from one another.
In addition to seeking feedback from colleagues, reaching out to industry professionals can provide another level of expertise and guidance. Professionals who have established themselves in the field have accumulated years of experience and knowledge. Their feedback can offer invaluable advice on industry trends, best practices, and ways to refine your design skills further.
To seek feedback effectively, consider joining design communities or online forums where you can connect with like-minded individuals. Engage in discussions, share your work, and ask for specific feedback on areas you want to improve upon. Many designers are more than willing to share their insights and offer constructive criticism when asked politely.
Remember that receiving feedback is just one part of the equation; implementing it is equally important. Take the time to reflect on the feedback you receive and identify actionable steps to incorporate it into your design process. Experiment with new techniques, explore different styles, and challenge yourself to push beyond your comfort zone.
Asking for feedback from colleagues and industry professionals is a valuable practice that can significantly enhance your graphic design skills. Embrace the opportunity to learn from others, refine your techniques, and stay ahead in an ever-competitive industry. By seeking feedback, you not only improve your own work but also contribute to the growth of the design community as a whole. So don't hesitate to reach out, ask for feedback, and embark on a journey of continuous improvement as a freelance graphic designer.
Be willing to negotiate rates and timelines with clients that are reasonable for both parties involved in the project.

Finding a balance between client expectations and your own needs as a freelance graphic designer is crucial for a successful project. One essential tip to keep in mind when working online is to be open to negotiating rates and timelines that are reasonable for both parties involved.
Negotiation is an art that allows you to establish a fair and mutually beneficial agreement with your clients. While it's important to value your skills and expertise, it's equally important to consider the budget and deadlines of your clients. Remember, finding the right balance can lead to long-term collaborations and positive referrals.
When it comes to negotiating rates, start by understanding the scope of the project and the client's budget. Research industry standards and consider your experience level, complexity of the task, and time commitment required. Be prepared with a clear breakdown of your pricing structure, so you can explain the value you bring to the table.
During negotiations, be open to discussing different options that might work for both parties. This could involve adjusting rates based on project milestones or offering package deals for multiple services. Flexibility in finding common ground will demonstrate your professionalism and willingness to accommodate your clients' needs while ensuring fair compensation for your work.
Similarly, timelines should be discussed openly with clients. Understand their deadlines and communicate any concerns or limitations you may have regarding time availability or workload. Being transparent about your schedule will help manage expectations from the beginning.
Remember that negotiation is not about compromising quality or undervaluing yourself as a designer; it's about finding a middle ground where both parties feel satisfied. Building strong relationships with clients often requires flexibility, effective communication, and a willingness to find solutions that benefit everyone involved.
By being willing to negotiate rates and timelines reasonably, you establish yourself as a professional who understands the importance of collaboration and fairness in freelance graphic design projects. This approach will not only help you build trust with clients but also contribute to long-term success in your career as an online freelancer.
Understand the scope of a project before beginning work, so you can accurately estimate time needed to complete it successfully.

Understanding the Scope: The Key to Successful Freelance Graphic Design
As a freelance graphic designer, one of the most critical tips for ensuring a successful project is to thoroughly understand the scope before diving into the work. By taking the time to assess and comprehend the project requirements, you can accurately estimate the time needed for completion. This not only helps you manage your schedule effectively but also ensures client satisfaction and a smooth workflow.
When starting a new project, it's essential to have a clear understanding of what your client expects from you. Take the time to communicate and gather all relevant details about their vision, goals, and specific requirements. This includes aspects such as design style, color schemes, target audience, desired deliverables, and any technical specifications.
By having a comprehensive understanding of these project elements upfront, you can make informed decisions about how much time each task will take. This allows you to provide an accurate estimate to your client regarding the timeline for completion. Remember that underestimating or overestimating the time needed can lead to frustration for both parties involved.
Accurately estimating the time required for a project has several benefits. Firstly, it helps you manage your workload effectively by allowing you to allocate sufficient time for each task within your overall schedule. This prevents unnecessary stress caused by rushing through projects or missing deadlines.
Secondly, providing an accurate timeframe builds trust with your clients. When clients see that you have taken their requirements into account and provided them with a realistic timeline, they are more likely to trust your expertise and professionalism. Trust is crucial in maintaining long-term client relationships and securing future projects.
Additionally, understanding the scope of a project allows you to plan resources accordingly. You can assess whether additional assistance or collaboration is needed based on the complexity and scale of the project. This ensures that you have all necessary tools and support in place before starting work.
Lastly, accurately estimating project timelines helps avoid potential conflicts or misunderstandings with clients. By setting clear expectations from the beginning, both parties are on the same page regarding project milestones and deadlines. This minimizes the risk of scope creep or unrealistic demands that can disrupt the workflow and strain the client-designer relationship.
In conclusion, understanding the scope of a project before starting work is a crucial tip for freelance graphic designers. Taking the time to gather all necessary details and accurately estimate the time needed for completion sets you up for success. It allows you to manage your schedule effectively, build trust with clients, plan resources accordingly, and prevent conflicts down the line. By implementing this practice in your freelance endeavors, you can ensure a smoother workflow and deliver high-quality results that exceed client expectations.
Develop relationships with potential clients by providing helpful advice or offering free samples of your work or services when appropriate

Building Relationships: A Powerful Tip for Freelance Graphic Designers Online
In the competitive world of freelance graphic design, standing out from the crowd and attracting clients can be a challenge. However, there is a valuable tip that can help you establish meaningful connections and set yourself apart from the competition: develop relationships with potential clients by providing helpful advice or offering free samples of your work or services when appropriate.
When it comes to freelancing, building relationships is key. It's not just about completing a one-time project; it's about nurturing long-term connections that can lead to repeat business and referrals. By offering valuable advice or sharing samples of your work, you demonstrate your expertise and showcase the value you can bring to clients' projects.
One effective way to develop relationships with potential clients is by providing helpful advice. This could involve sharing tips, insights, or industry knowledge through blog posts, social media content, or even direct communication. For example, if you specialize in logo design, you could write a blog post on "5 Essential Tips for Creating an Impactful Logo" or offer personalized advice when someone reaches out with questions related to logo design.
By freely sharing your expertise, you position yourself as a trusted authority in your field. Potential clients will appreciate the value you provide and recognize that you genuinely care about their success. This approach helps build trust and establishes a foundation for future collaborations.
Another effective strategy is offering free samples of your work or services when appropriate. This doesn't mean giving away all your skills for free but rather providing a taste of what you can do. For instance, if a potential client is unsure about hiring you for an extensive branding project, offer to create a sample logo or mock-up that showcases your creativity and design skills.
By offering these samples, you allow potential clients to experience firsthand the quality and style of your work. It helps them visualize how their project could benefit from your expertise. If they are impressed with the sample, it increases the chances of them choosing you as their preferred designer.
However, it's important to strike a balance between providing advice or samples and protecting your time and expertise. Be selective in offering free work or advice, ensuring that it aligns with your overall business goals. It's essential to set boundaries and clearly communicate what falls within the scope of free assistance and what requires a formal agreement.
In conclusion, developing relationships with potential clients through helpful advice or free samples can be a game-changer for freelance graphic designers online. By generously sharing your knowledge and showcasing your skills, you build trust, establish yourself as an expert, and increase the likelihood of securing future projects. Remember to find a balance that allows you to provide value while still protecting your time and expertise. Embrace this tip as part of your freelance strategy, and watch how it opens doors to new opportunities in the exciting world of graphic design.
Network online through social media sites such as LinkedIn, Twitter, and Facebook to find new opportunities for freelance graphic design projects

Unlocking New Opportunities: Network Online for Freelance Graphic Design Projects
In the digital age, networking has taken on a new dimension, opening up exciting possibilities for freelance graphic designers. Social media platforms like LinkedIn, Twitter, and Facebook have become valuable tools for connecting with potential clients and discovering fresh opportunities in the world of freelance graphic design.
LinkedIn, known as the professional networking platform, is an ideal place to showcase your skills and expertise. Create a compelling profile that highlights your experience, portfolio, and achievements. Join relevant groups and engage in discussions to establish yourself as a knowledgeable professional in the field. By connecting with other professionals and actively participating in industry-related conversations, you can expand your network and attract potential clients who are seeking talented graphic designers.
Twitter, on the other hand, offers a fast-paced environment where you can connect with industry influencers, fellow designers, and potential clients. Utilize hashtags related to graphic design (#graphicdesign #freelancedesign) to join conversations and gain visibility within the design community. Share your work samples, insights into design trends or techniques, and engage with others by retweeting or commenting on their posts. Building an active presence on Twitter can help you establish credibility while expanding your reach to potential clients who may be searching for freelance designers.
Facebook may be primarily known as a social platform for personal connections, but it also offers opportunities for professional networking. Join design-related groups or communities where you can share your work and connect with like-minded individuals. Engage in discussions or offer helpful advice to demonstrate your expertise. Additionally, consider creating a dedicated Facebook page showcasing your portfolio or sharing updates about your freelance graphic design services. Encourage satisfied clients to leave reviews on your page to build trust among potential clients who come across it.
Remember that networking online is not just about self-promotion; it's also about building relationships and providing value to others in the community. Share useful resources or insights related to graphic design, offer constructive feedback on others' work, and be genuinely interested in connecting with others. Building a reputation as a helpful and engaged member of the design community can lead to organic referrals and recommendations.
While social media platforms are powerful networking tools, it's essential to maintain professionalism and present yourself in a consistent and authentic manner. Be mindful of your online presence, ensuring that your profiles reflect your skills, experience, and portfolio accurately. Regularly update your profiles with new projects or achievements to keep them fresh and relevant.
In conclusion, networking online through social media sites such as LinkedIn, Twitter, and Facebook can open doors to new freelance graphic design opportunities. By actively engaging with professionals in the field, sharing your work, and providing value to the community, you can expand your network and attract potential clients who are seeking talented designers like yourself. Embrace the power of these platforms to connect with industry influencers, showcase your skills, and unlock exciting freelance projects that align with your passion for graphic design.
Stay organized by using tools such as project management software or task lists to keep track of deadlines, progress updates, invoices, and other important information related to each job you take on

Staying Organized: The Key to Success in Freelance Graphic Design
As a freelance graphic designer, juggling multiple projects and deadlines can be quite challenging. However, staying organized is the secret ingredient that can make all the difference in your success. One effective way to maintain order and stay on top of your workload is by utilizing tools such as project management software or task lists.
Project management software, such as Trello, Asana, or Basecamp, can be invaluable in keeping track of deadlines, progress updates, and other essential information related to each job you take on. These platforms allow you to create tasks for each project, set due dates, assign responsibilities, and even communicate with clients or team members. By having a centralized system where you can visualize your workflow and monitor progress at a glance, you can effectively manage your time and resources.
Task lists are another simple yet powerful tool that can help you stay organized. Whether you prefer using digital task management apps like Todoist or simply jotting down tasks on a physical notepad, creating a to-do list for each project ensures that nothing falls through the cracks. Break down larger projects into smaller actionable tasks and prioritize them based on urgency or importance. By systematically checking off completed tasks as you go along, you'll have a clear overview of what needs to be done and when.
Apart from managing deadlines and tasks, staying organized also involves keeping track of invoices and important client information. Utilize accounting software or online platforms like QuickBooks or FreshBooks to streamline your invoicing process. These tools allow you to generate professional-looking invoices quickly while keeping records of payment history for easy reference.
Additionally, consider establishing a file organization system for each project. Create folders on your computer or cloud storage service where you can store relevant files such as design assets, client briefs, feedback documents, and final deliverables. Keeping everything neatly organized not only saves time but also ensures that you can easily access any required information whenever needed.
By staying organized with the help of project management software, task lists, and other tools, you'll be able to maintain control over your workload and deliver projects efficiently. Not only will this enhance your productivity, but it will also contribute to building a positive reputation among clients as someone who is reliable and professional.
Remember, in the world of freelance graphic design, organization is not just a luxury but a necessity. Embrace these tools and techniques to stay on top of your game and set yourself up for success in the fast-paced and ever-evolving world of online freelancing.
---